APS ISPAD Diabetes Workshop
14th Annual APS/ ISPAD Diabetes Workshop (Hybrid On Site and Virtual)
28 and 29 October 2022
The APS ISPAD annual diabetes workshop represents the major professional development for regional and suburban child diabetes teams to share the collegiate experience of successfully managing young people living with diabetes based on best practice ISPAD guidelines.
We are excited to showcase the best in Australasian and international presenters who will lead discussion with presentations both live and virtually. APS is renowned for understanding the needs and challenges of non-tertiary teams and the level at which to pitch presentations and discussions.
The aim of the workshop is to empower and inspire regional diabetes teams with current evidence-based best practice along ISPAD principles of promoting education, advocacy and science. We welcome all members of diabetes teams from anywhere in Australia or New Zealand and junior staff with an interest in diabetes.
Keynote addresses from international guests and presentations by local experts will be delivered on practical relevant topics of management.
Program

APS ISPAD Workshop Program 2022133.06 KB
Many options for attendance available.
Content updated 29 August 2022
---
The 13th Annual APS/ ISPAD Diabetes Workshop (Virtual) 30th October 2021.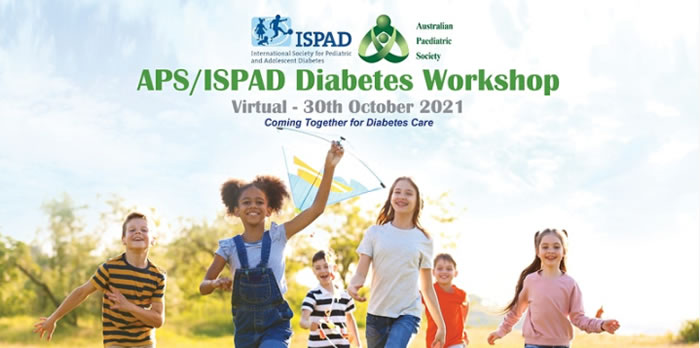 Keynote addresses are from international guests Peter Adolfsson and Joe Soloweijczyk and our internationally renowned dietician Carmel Smart. The meeting also included presentations by local experts on practical relevant topics of management.
The program is available here:

APS ISPAD Diabetes Workshop 2021 - Agenda404.52 KB
How to view the presentations
1. Paid to attend workshop
APS Members
If you paid for workshop attendance log in to view.
Non-Members
If you paid for workshop attendance you will be emailed a username and password to log in to view.
2. Pay to view workshop replay
For both APS Members and others who wish to view please go to Eventbrite to pay for access.
Cost is $55.00 (GST incl) and access details will be provided.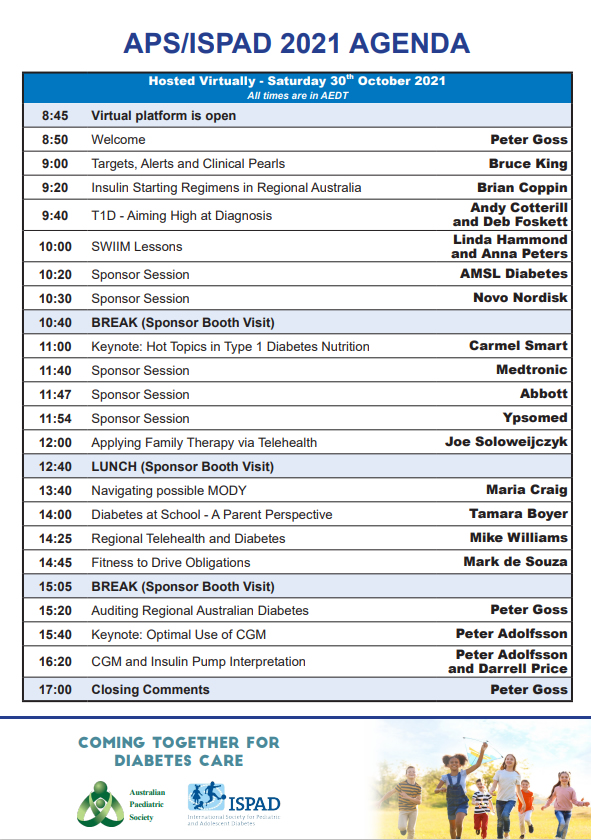 Content updated 17 November 2021